I've been wanting to write for a while now but it has been so hard to find the time. I love this time of year for
being able to start a New Beginning, (I could live without the cold though) : ) Being able to set goals to help me reach my dreams and help me become a better mother and person all around. That is at least what I hope for at the beginning of January. : )
One of the books that I have started reading this year is Walking in This World by Julia Cameron. She is such an amazing writer and I have enjoyed all the books I have read by her.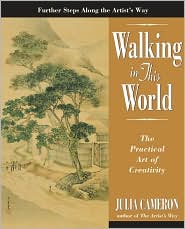 One of my dreams has been to live a more creative life and to feel confident with what I do. As I have read the Artist's Way and Vein of Gold, which she also wrote, I have really come to feel better about myself as an artist.
An amazing experience I have had as I read her books was to realize that what I thought I wanted and what I thought my dreams were, were not really what I truly wanted. As I went deeper by doing the different activities and tools that she shares in her books I have been able to peel back the layers of what I thought the world or others thought should be my dreams. For example I have always wanted to be an artist, but I thought I needed to be an exceptional "watercolorist" but I'm realizing I love textiles: yarns, and material, etc. I still love to use watercolors but I don't need to be exceptional. : )
The one thing I'm coming away with as I begin this new year is the need to believe in myself -- to believe that I can accomplish my goals and that I can reach my dreams. It is possible. Maybe at times it seems too hard by myself but I need to believe that I'm not alone and that Our Heavenly Father cares and will help me along this journey. I don't have to do it all by myself but simply do my very best.
If this can apply to me I know it applies to every one else. We are not alone as we make this journey through life -- we can have help in reaching our dreams and accomplishing our goal.